ValueMomentum at Guidewire Connections
As we gear up for Guidewire Connections this year, we are excited to be part of such an amazing conference! As a property/casualty specialized IT services & solutions partner, we help carriers leverage their investments in Guidewire for targeted business outcomes. Our CoreLeverage business helps carriers discover & use rich Guidewire functionality to drive:
Speed: Enabling customer objectives through faster and predictable rollouts
Efficiency: Maximizing the value of the core platform and enabling early realization of benefits
Reliability: Ensuring a stable application without outages and performance issues
Costs: Rationalizing program costs through optimization and automation
Join us for the live event in Las Vegas from November 1-4. Register at the Guidewire Connections website.
Watch our speaking session with NJM!
NJM Launches Commercial Offerings
Wednesday, November 3rd, 2:15 PM PST



Leveraging the Guidewire platform, NJM expanded its commercial offerings to include Business Owners Policy (BOP) and Commercial Umbrella insurance (CUMB). This end-to-end initiative included building out the rules, rates, and forms for the products; establishing predictive modeling; setting up capabilities to manage producers and agencies; and integrating back-end office solutions as well as front-end third-party partners to provide a seamless experience for both agents and employees.
ValueMomentum's Approach to Guidewire Implementations
ValueMomentum provides end-to-end services to support Guidewire implementations. Our comprehensive portfolio guides insurers starting from the pre-inception stage —where we discuss product strategy, distribution strategy, rating strategy, and competitor analysis—all the way through inception, development, stabilization, and deployment.
Driving Business Growth with Guidewire Core
Delivering Quality with Speed in Core Modernization Initiatives
Core modernization initiatives are complex and often fraught with cost and schedule overruns. Success hinges on the quality and acceptance of the applications. For this reason, it is paramount that all aspects of the application(s) be thoroughly tested, so that the systems are successfully adopted by users, are compliant with regulations, perform as expected, and deliver a strong return on the capital investments.
Learn how NJM & Pekin Insurance successfully leveraged new application testing techniques to deliver quality, with both speed and lower costs.
Guidewire Specific Offerings
ValueMomentum's end-to-end offerings help carriers transform, digitize, and grow their business using Guidewire's suite of applications. Our service offerings focused on the Guidewire platform include:
Advisory: Helping you develop and refine your product model and rating strategy, integration and underwriting approach, business and technology solution, and your overall program roadmap
Implementation: Offering comprehensive services and a proven methodology to support your core implementations for entering new market segments, launching new products, or expanding into new geographies
Core AMS: Providing a holistic approach towards maintenance across technology, application, and business streams, to help you achieve better productivity and improved quality with minimized run costs
Upgrade: Taking the busy work out of your upgrade to a new version, move to a self-managed cloud, or migration to SaaS
Your Trusted Guidewire Partner
ValueMomentum's Guidewire team comprises of insurance domain experts who bring knowledge on P&C insurance business products, actuarial models, underwriting rule sets, rating logic, new business, underwriting, issuance, servicing, claims and reinsurance processes, filings, forms, agent concerns, customer concerns, bureau data, third party data analytics, and much more.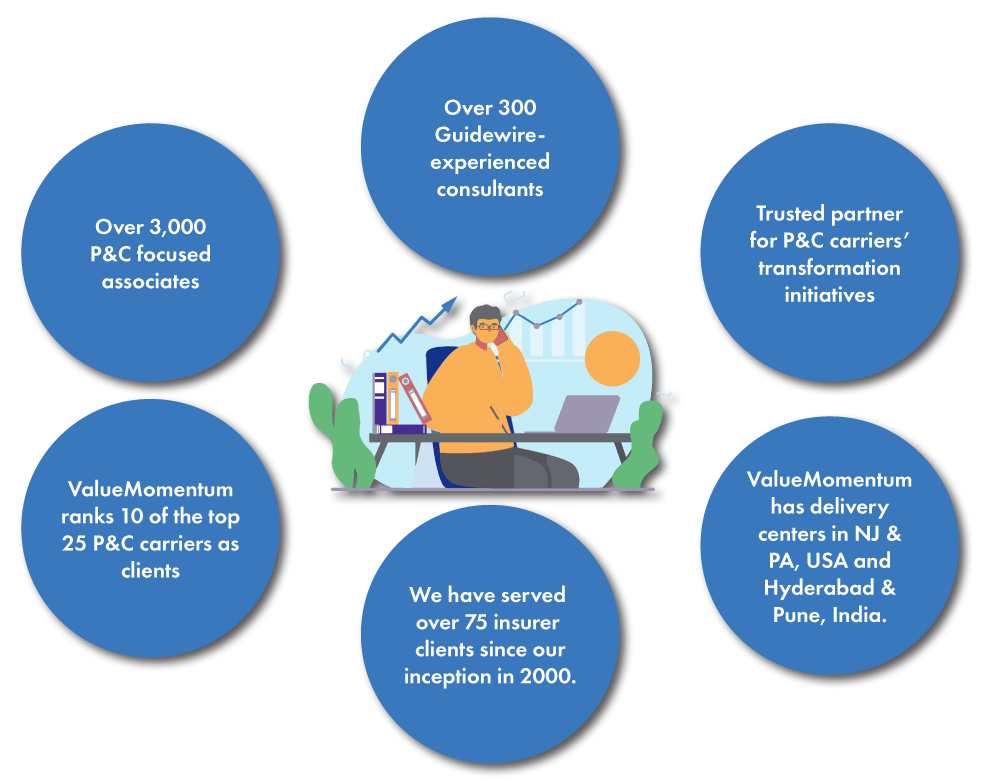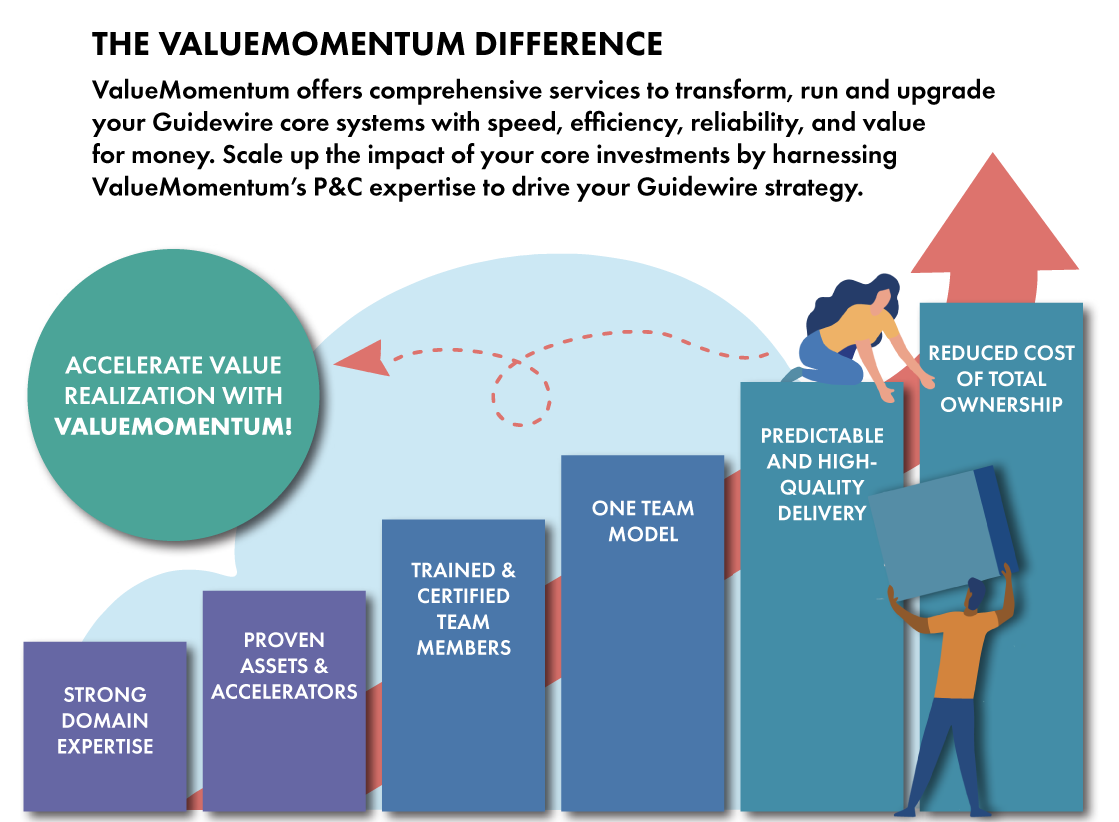 For more information on how we can help transform your organization, please contact:


James Carlucci, Executive Vice President, Insurance; ValueMomentum